Transcend Beyond All Limits.
About SarahSpiritual, she is a spiritual advisor and coach, energy healer, medium and artisan for personal transformational enlightenment. Sarah empowers people through private and group readings, Spirit- channeled classes, extended training programs and motivational lectures.
She is the founder and owner of the Expedito Enlightenment Center, a spiritual oasis offering a multi-cultural array of products in West Palm Beach, Florida. The Center is honored to be a Temple of the Violet Flame of Saint Germain, symbol of forgiveness and transcendence.
SarahSpiritual is About being a consummate artisan, creating an extensive line of transformational hand-blended spiritual products including baths, mists, incense, oils and other items designed to enhance any spiritual practice. Her radio show, Spiritually Speaking with Sarah, has been live on-air since 2009. SarahSpiritual delivers Spirit-driven insight & messages of hope to a diverse listening audience Wednesdays from 6 – 8 PM ET on WWNN 1470 AM, 95.3 FM & 96.9 FM in South Florida, nationally on iHeart Radio and TuneIn and video-streamed LIVE on Facebook, YouTube & Periscope.
SarahSpiritual is a featured speaker and entertainer at numerous spiritual conferences delivering powerful lectures and moving vocal performances. An integral part of SarahSpiritual's mission is paying it forward to the community. She hosts complimentary celebrations at the Expedito Enlightenment Center. Sarah also gives freely of her singing talents by performing the National Anthem at Royal Palm Beach High School home games and other community events.
"SarahSpiritual has been featured in a Fox News nightly segment. Articles on Sarah have appeared in the Palm Beach Post, the Sun Sentinel, Town Crier and other media outlets."
As a corporate Sr. Sales Director Sarah architected and closed multi- million dollar deals delivering cutting edge global call center technology to multi-national firms in numerous industries. Prior to that Sarah was a pink Cadillac winning Sr. Sales Director for Mary Kay Cosmetics.
Did you know?
SarahSpiritual was a local and state winner in the Miss America Pageant series. Sarah is a professionally educated singer, composer, musician and comedienne who honed her skills on the New York City club and theater circuits.
THE EXPEDITO ENLIGHTENMENT CENTER
Visit SarahSpiritual at her Expedito Enlightenment Center, 4047 Okeechobee Blvd in the Tree of Life Plaza, West Palm Beach.
The Expedito Enlightenment Center is multi-cultural spiritual oasis fulfilling all of your spiritual needs. At the Center you can have a session with SarahSpiritual, attend spirit-channeled classes sure to enlighten and empower you or be energized by a full range of spiritual healing services. Experience SarahSpiritual's spirit-channeled line of spiritual baths, herbal and oil blends designed just for you. Shop the Center's extensive array of crystals, statues and multi-cultural spiritual products. Bridge the gap between you and spiritual connection!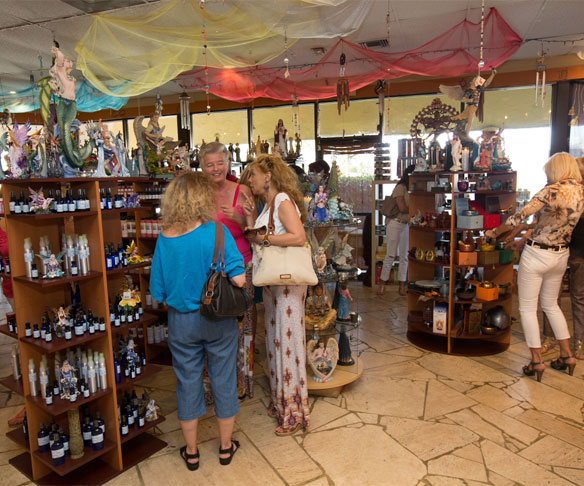 I just wanted to send this letter to THANK YOU so very much for the reading you did for me last week! I have to tell you I was expecting the reading to be good because I've known about you for years, but what actually happened was nothing short of AMAZING!!