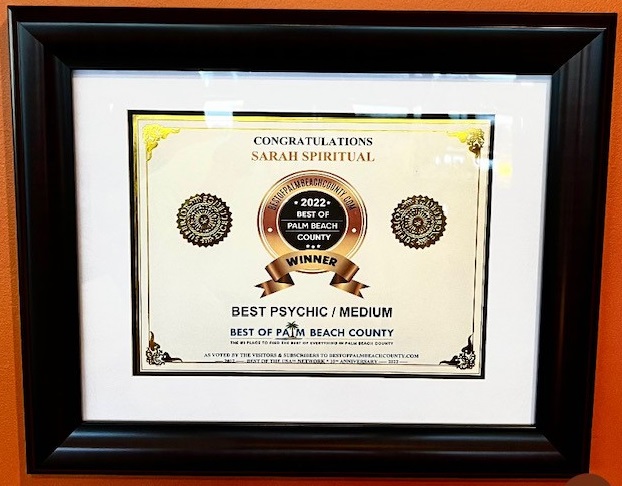 All I can say is, "Wow!"
I am so honored to receive this award as Best Psychic Medium in Palm Beach County for 2022!! 
I was unaware of the voting therefore this comes as a huge surprise! A million thank-yous to everyone in the community who made this possible by taking the time to nominate me and vote.  
We've framed the Award and have hung it on the wall behind the front counter of the Expedito Enlightenment Center! 
I am humbled to be of service to our community and assist you on your spiritual journeys. 
I love empowering each individual who sits with me, be it in person or remotely. I am appreciative of all your referrals and for welcoming me into your inner circle of friends and family members.  
We could not have done this without our community here in West Palm Beach and all those who travel to see me or visit the Center in person for a session or program. 
We thank you for your support for our soon-to-be 17 years of business. 
Here's to our togetherness in 2023, filled with love, abundance, fortitude, health, and spiritual expansion. 
In Love and continued service of Light, 
SarahSpiritual  
WPEC Channel 12 News , West Palm Beach Florida 2023  Interview With SarahSpiritual and Mike Magnoli
.
BECOME A MEMBER
GET ACCESS TO EXCLUSIVE CONTENT!