Schedule a Spiritual Session with SarahSpiritual.
Visit SarahSpiritual at her Expedito Enlightenment Center,
4047 Okeechobee Blvd in the Tree of Life Plaza, West Palm Beach.
Call 561 682 0956
SarahSpiritual is committed to guiding individuals on their spiritual path. Sessions may done in-person at SarahSpiritual's Expedito Enlightenment Center, by phone or by Skype. Once your order is processed you will be contacted to schedule your session with SarahSpiritual. Please make sure the contact information you provide is correct.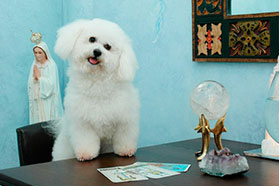 In a General Reading Sarah connects to Spirit and gathers information for your highest good. Many of the following topics are covered: relationships, career, finances, health and more. Spirit often highlights pivotal moments in your life so you may better understand factors leading to this current moment. You may ask specific questions of your Spirit Guides, Angels, and loved ones who have passed over. This session will last approximately 30 minutes.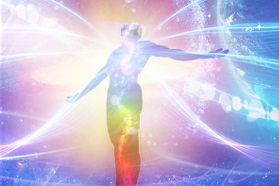 Are fragmented aspects of Your SELF hindering fulfilled living? Orphans are fragmented, unresolved aspects of ourselves created by events in our lives. A SOUL INTEGRATION can open the doorway to a fulfilled life. SarahSpiritual is one of a handful of spiritual facilitators worldwide who have been certified as Soul Integration Practitioners by Sheila & Marcus Gillette & THEO. Sarah will assist you in identifying & working with your Orphans. She will guide you through the Soul Integration Process in a kind & nurturing manner leading to the integration of your Orphans with your Soul. This session will last approximately 60 minutes.
SarahSpiritual's 2024 Forecast provides insight into significant areas of your life. This session will explore key components of the following:

 Spiritual Expansion, Love & Relationships, Work & Career, Money & Finances, Health & Well-Being PLUS: Receive A Personal Channeled Spiritual Message regarding 2024 from Your Angels!

SarahSpiritual's 2024 Forecast makes a GREAT GIFT GIVING IDEA for a friend or family member that you know would like insight into THEIR 2024!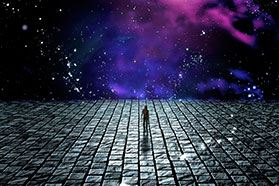 Each of us has a specific purpose and mission. SarahSpiritual's Life Path reading offers insight to your life's purpose. Your soul's experiences have been preparing so you may fulfill your purpose.Sarah and Spirit will illuminate your path options so your soul's free will may select the path for your highest good in this lifetime. Sarah will then give you the tools you'll need to put your purpose into action. This session will last approximately 40 minutes.
personal regression
meditation session
SarahSpiritual leads you in a guided meditation to a past life experience. This journey will identify a life lesson or obstacle to your spiritual growth. The meditation also serves as a tool to manage and ultimately overcome these obstacles. An MP3 recording of the session will be provided for your continued use. This session will last approximately 30 minutes.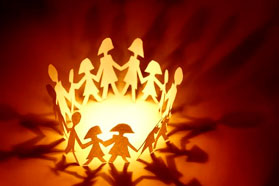 SPIRIT GUIDE & ANGEL
SESSION
Each individual has a Guardian Angel and Spirit Guides. Have you ever wondered which Spirit Guide is with you at this time or how to communicate with your Guardian Angel? In this session Sarah and Spirit will communicate with your Spirit Guides and Angels and assist you in building a strong understanding and connection. This session will last approximately 30 minutes.
Are fragmented aspects of Your SELF hindering fulfilled living?
The SOUL INTEGRATION™ process by the THEO Group, Inc.  can open the doorway to a fulfilled life.
This two-session Soul Integration Package is the perfect way to begin your Soul Integration™ journey! The two Soul Integration Package Sessions will cover these aspects of the process:
Session 1: Understand the basics of the process and how they apply to your life. Begin to identify an "Orphan" and its origins. Understand how your Orphan may be impacting your day-to-day living.
Session 2: Deepen the focus on your Orphan and its effect on your feelings of self-worth, your relationships and other aspects of your life. Begin the work of integrating your Orphan/soul fragment back into your whole Self.
Each Soul Integration Package Session will last approximately 60 minutes.
energetic rejuvenation
Session
Everything is energy; WE are energy. Our energy can become misaligned, leading to spiritual, emotional and physical dis-ease. SarahSpiritual, with the assistance of Archangel Michael, the Holy Spirit and Archangel Raphael's Angelic Healing Realm, realigns and rebalances your energies. This session will last approximately 30 minutes.
Power Of I AM
Coaching Session
The Power of I AM and the Violet Flame energetically TRANSFORMS everything and everyone.  
In this Power of I AM Coaching Session…
SarahSpiritual directs the Violet Flame to clear your Energy and personal space
You'll experience "powerful" transformation and the release of karmic entanglements and dissolve energetic cords from the conditioned human experience
You'll experience the Power of Words and how to direct your Energy with I AM Decrees. You will also receive "personal" powerful Decrees.
You'll understand your Source Truth and how the Voice of the I AM can be your most powerful spiritual tool.
Learn the tools of transformation by using the I AM Presence and the energy of the Violet Flame!
This session will last approximately 60 minutes.
Roadmap To
Fulfilled Living
Chart YOUR Personalized Roadmap to Fulfilled Living with SarahSpiritual!
Get three Power of I AM Coaching Sessions. Learn to:
Unlock the Power of Your I AM Presence
Recognize that you are a powerful Being of Love and Light
Tap into the Power of YOU
Embrace your greatness; embrace your gifts
Use the Violet Flame to Transform and Transcend your human experience
Each Session will apply these principles to one of three major areas in your life:
Relationships
Finances/Career
Spiritual Expansion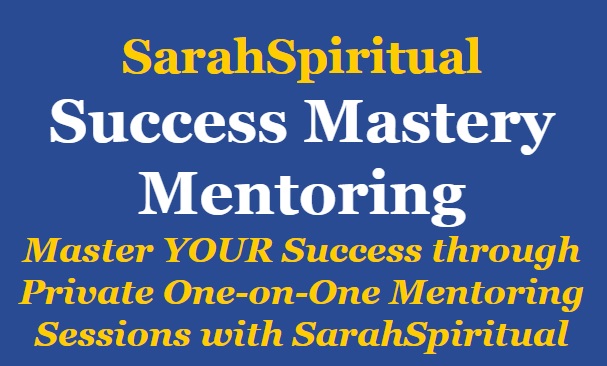 Success Mastery Mentoring
Do you have a great business idea but don't know how to get it off the ground? Perhaps you already have a business but have hit a wall: you're finding it difficult to expand to the next level. It may be a family situation that needs attention, a relationship that needs rekindling, or a career that needs a boost or even a total changeover. Do you feel like you stall out right before things "click"? Does your persona success seem elusive? How can you grab the "Golden Ring?" Many of you have requested that I Mentor you in elevating yourself Personally, Spiritually, and Financially. Let's connect, develop your design, plan your steps and teach you how to make your dreams a reality.
When you place your order for a session with SarahSpiritual please make sure to complete the form. We will use this information to efficiently schedule your session. Once your order is processed you will be given the first open appointment. Please understand Sarah's schedule is often booked well in advance.
Before Your Session with SarahSpiritual
Consider what information, guidance or healing you wish to receive from Spirit and hold that in your intention before your session. If you desire connection with a specific person please focus your thoughts, energy and love on that person. This action opens the door for them to come through if it is in the Divine Order and your highest good at the time. You are free to bring questions; you'll often find that Spirit will answer questions in your session before you've had the chance to ask them. We suggest you do your best to be relaxed as a relaxed state of mind allows for a clearer, more enjoyable experience. Please arrive a few minutes early for your session. You can take this time to be still, meditate or pray.
What to Expect in Your Session
SarahSpiritual is a conduit to the Divine Spirit, allowing energy and messages to flow with guidance for your greater good. SarahSpiritual creates a circle of light and trust so you may discuss any topic without concern. You may receive messages from a Spirit Guide, an Angel, and, often, a deceased love one. Sarah is simply the messenger: she can only relay messages from those who present themselves for communication during your session. All of SarahSpiritual's sessions offer you the opportunity to ask questions. Important: If your session is being done by phone or Skype please be sure to be in a quiet environment. Please refrain from doing "anything" such as driving during your session. Sarah requires a quiet environment for your session.
Scheduling and Cancellation Policies
A session with SarahSpiritual must be paid for in full in advance and is nonrefundable. Should you need to reschedule your session, you must provide notice at least 48 hours in advance. One reschedule will be allowed.